Arjo is committed to improving the lives of those affected by reduced mobility and age-related health challenges. In honor of World Thrombosis Day, we support and embrace efforts to raise global awareness of the potentially life threatening impact of thrombosis on many lives with our "eyes open to thrombosis" today and every day.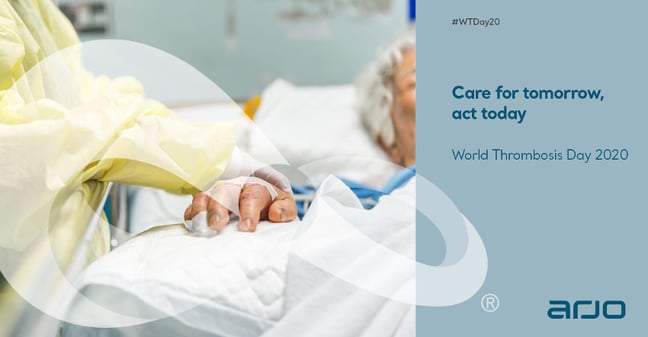 World Thrombosis Day, celebrated annually on October 13th for the past 7 years, occurs on the birthday of Rudolf Virchow, a German physician who elucidated the etiology of thrombosis and advanced our understanding of this condition to this day. In the US and Europe, venous thromboembolism (VTE) related events kill more people than AIDS, breast cancer, prostate cancer and motor vehicle accidents combined.1
This year, the novel coronavirus pandemic has placed the occurrence of thrombosis and its ramifications in an even bigger spotlight. COVID-19 is profoundly impacting many communities and continues to take a catastrophic toll on lives globally with each passing day. Initially viewed as a respiratory illness, research now illustrates that COVID-19 manifests as an extensive vascular disease, predisposing some patients to elevated risk of severe thrombotic conditions that continue to not be fully understood.
Ongoing evidence show that patients with moderate and severe COVID-19 experience a high incidence of VTE, especially in those with additional risk factors and comorbidities.2 Autopsy findings of pulmonary vessels in COVID-19 patients have shown widespread thrombosis being 9 times more prevalent as compared to patients with influenza.3
Arjo is committed to increasing awareness of thrombosis and reducing patient harm by providing clinically-effective pneumatic compression therapy solutions for the prevention of VTE to improve patient outcomes. Today is the time to act and ensure we are doing all we can to reduce the risk of thrombosis of those in our lives and under our care.
References:
Cohen AT, Agnelli G, et al. Venous thromboembolism (VTE) in Europe - The number of VTE events and associated morbidity and mortality. Thromb Haemost. 2007; 98:756-764.
American Society of Hematology. COVID-19 and VTE/Anticoagulation: Frequently Asked Questions. Version 5.0; last updated September 18, 2020. https://www.hematology.org/covid-19/covid-19-and-vte-anticoagulation.
Ackermann M, Verleden SE, Kuehnel M, et al. Pulmonary Vascular Endothelialitis, Thrombosis, and Angiogenesis in Covid-19. The New England Journal of Medicine. 2020 Jul;383(2):120-128.