Did you know that for the past four decades, nurses have experienced the highest work-related injury rates of all healthcare personnel?1
More than 35,000 nursing professionals suffer back and bodily injuries every year2
The majority of injuries result from unsafe manual patient handling and repositioning of patients3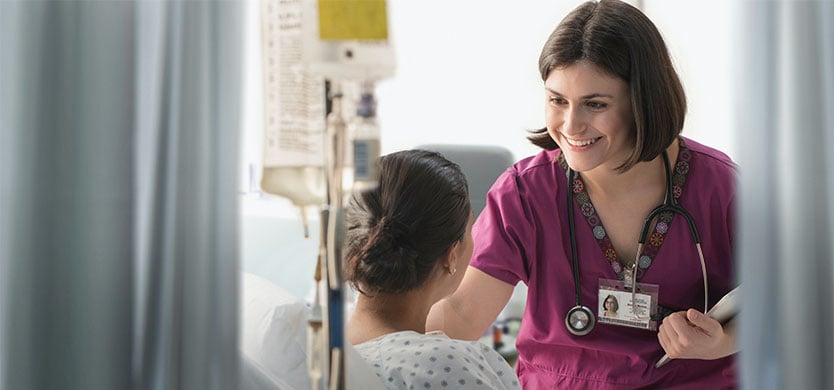 To help reduce the risk of nursing professionals becoming patients themselves, hospitals are proactively implementing SAFE patient (and nursing) handling and mobility (SPHM) programs with the utilization of proper equipment and institutional culture change. Our safety and health depend on it with every task we perform, as much as that of those in our care. As nursing professionals, we have to take SAFE and proper care of ourselves to better take care of others.
Evidence shows that, in the Veterans Health Administration (VHA), implementation of a SPHM program resulted in:3
A 40% reduction in manual patient handling injuries
Enhanced nursing recruitment and retention, and
Improved the quality of patient care
In 2018, the VHA implemented a directive specifying that "a SPHM Program be required in every VHA health care system to protect VHA health care workers and patients from injuries due to patient handling and mobility to ensure that all Veterans have equitable opportunity to access SPHM technology as needed and to meet and improve their care needs. Employees will utilize SPHM technology for routine (i.e., non-emergent) patient handling tasks that require lifting over 35 pounds of patient weight, or when performing tasks that require the generation of excessive force, such as repositioning a patient in a bed by pushing or pulling. New construction and renovation projects will incorporate patient handling and mobility technology appropriate to the type of care setting in the design phase."3
Arjo is committed to providing safe patient handling and mobility equipment and solutions that improve the quality of life for those with reduced mobility and age-related health challenges. We partner with hospitals to help improve patient outcomes and, just as important, enable a safer work environment for healthcare professionals across the continuum of care.
Remember the "S" in SPH...SAFE-ty comes first!
References:
Fragala, G, et al, (2016). Patient-handling injuries: Risk factors and risk-reduction strategies. American Nurse Today, 11(5): 40-44. https://www.americannursetoday.com/patient-handling-injuries-risk-factors-risk-reduction-strategies/
NPR. Hospitals fail to protect nursing staff from becoming patients. February 4, 2015. https://www.npr.org/2015/02/04/382639199/hospitals-fail-to-protect-nursing-staff-from-becoming-patients
Veterans Health Administration (VHA), Department of Veterans Affairs (VA). Safe patient handling and mobility program. VHA Directive 1611, March 2018. https://www.va.gov/vhapublications/ViewPublication.asp?pub_ID=6338