Direct patient care impacts caregivers' health
Work-related musculoskeletal injury is common in health care facilities where high-risk tasks are part of direct patient care.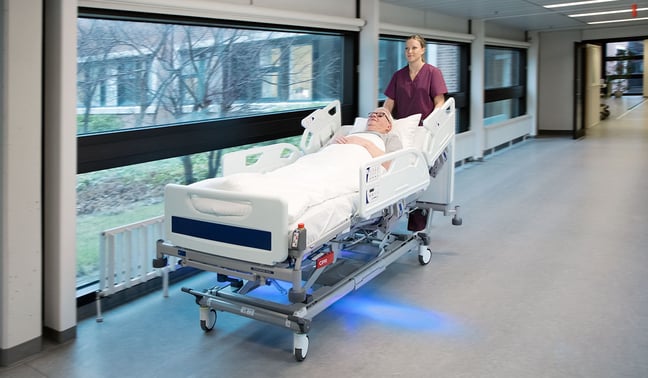 In 2015, nursing assistants ranked among the top occupations reporting a high incidence of work-related injury or illness requiring days away from work.1 Musculoskeletal disorders (MSD) made up 31% of the total work-related injuries/illnesses reported in 2015.1 Nursing assistants had the second highest MSD incidence rate at 171 cases per 10,000 full-time workers.
Direct patient care that can cause MSD involves:
Lifting
Repositioning
Moving patients
Major risk factors for caregivers include:
Exertion required
Frequency
Posture
Duration or cumulative exertion2
A Safe Patient-Handling program, supported by evidenced-based research, can reduce work-related MSD.
Moving a hospital bed can be dangerous
Transporting a patient in a hospital bed decreases the risk for injury associated with lateral patient transfers. However, pushing and pulling a hospital bed can cause excessive shear forces to the spine. These forces can injure the caregiver's lower back or upper extremity. The amount of force the spinal intervertebral discs can handle is one-third less than the spinal compressive force created during manual lifting tasks.3
Power: benefits and drawbacks
Daniell reported less back muscle activation when using a powered bed mover to move a hospital bed compared with manually pushing the hospital bed.4
Wiggermann correlated hand forces and turning torque to spinal load during bed maneuvering.5 This study found a decrease in peak hand forces when a powered bariatric bed drive system was used in comparison with manually moving the bed.5
Power bed movers may not be practical in facilities with:
Storage limitations
No access to the product
Elevators that are too small
Arjo's solution to improve caregiver safety
Arjo's innovative solution improves the safety of caregivers when moving a hospital bed. The IndiGo™ is an intuitive drive assist technology system designed specifically for the Enterprise® 9000x and the Citadel™ bed frame. The IndiGo technology assists bed movement in any direction the user wants to move, without added complexity of external controls or handles. IndiGo drive assistance makes lighter transport available to any caregiver.
References:
US Department of Labor. Bureau of Labor Statistics News Release. Nonfatal occupational injuries and illnesses requiring days away from work, 2015. https://www.bls.gov/news.release/pdf/osh2.pdf.
Special Report: Preventing Patient Handling Injuries in Nurses. May 2016. American Nurse Today 11(5), 38-44. https://americannursetoday.com/wp-content/uploads/2016/05/Patient-Handling-Safety-426b.pdf.
Gunther P, Quintero-Duran M. Ergonomic Assessment of Hospital Bed Moving using DHM Siemens JACK. Proceedings 19thTriennial Congress of the IEA, Melbourne 9-14 August 2015.
Daniell N, Merrett S, Paul G. Effectiveness of powered hospital bed movers for reducing physiological strain and back muscle activation. Applied Ergonomics. 2014, 45(4), 849-856.
Wiggermann N. Effect of a powered drive on pushing and pulling forces when transporting bariatric hospital beds. Applied Ergonomics. 2017, 58(1), 59-65.