Within the past 25 years, wound care research and product development has blossomed. As the wound care arena expands, the demand placed on clinicians to be more knowledgeable and proficient in properly preventing, diagnosing and treating wounds is also increasing.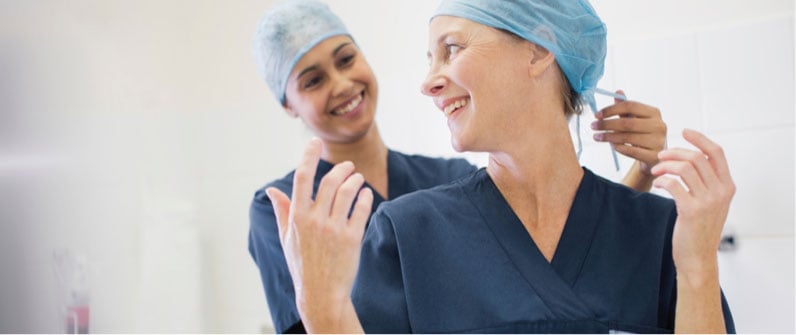 As the baby boomer population ages, and the rate of obesity and diabetes increases, the probability of a rising prevalence of non-healing wounds is a future reality. The US Census Bureau predicts that by 2030, all baby boomers will be older than age 65 resulting in one in every five residents being of retirement age. This staggering statistic will have a direct impact on our healthcare system.1
Obtaining a wound care certification can offer several benefits for a healthcare clinician. Wound care certification may provide:
Improved employment opportunities
Professional growth
Better patient outcomes
Multidisciplinary collaboration opportunities
Board certification may offer recognition as an expert within the field. The American Board of Wound Management (AAWM) cite their board certifications, CWS (Certified Wound Specialist) and CWSP (Certified Wound Specialist Physician), as "formal recognition of a master level knowledge and specialty practice in wound management".2 From a clinical perspective, a study done by Dr. Diane Boyle, the Chair of Nursing and a Professor at Faye W. Whitley School of Nursing, found lower hospital-acquired pressure injury (HAPI) rates in acute care facilities that employed wound care certified nurses (CWOCN, CWCN, and CWON).3
Conducting an internet search, one can find many organizations offering wound care certification. However, not all wound care certifications are the same. You may want to inquire as to whether the program is accredited which ensures a non-biased certification. There are only two accredited certifying boards for wound management:
The American Academy of Wound Management (AAWM)2
The Wound, Ostomy and Continence Nursing Certification Board (WOCNCB)4
The AAWM is accredited by the National Commission for Certifying Agencies (NCAA) and the WOCNCB is accredited by the Accreditation Board of Specialty Nursing Certification (ABSNC). Vigilance in your internet search will reveal certification criteria and eligibility to meet your professional goals.
Arjo assists in your wound care efforts
Arjo's clinical team consists of certified wound care professionals with extensive expertise in the prevention and treatment of pressure injuries. Our wound care clinical team works closely with our customers to provide valuable support, services and programs, such as:
Pressure injury prevalence surveys
CEU approved wound care education programs
Assistance with choosing the right support surface and decision tree algorithms
Onsite clinical rounding
Education regarding specialty rental therapeutic support surfaces
Contact Arjo today to find out how our team of certified wound care professionals can support and assist you in providing quality wound care prevention and treatment for your patients.
Click below to explore Arjo's products and solutions that help to optimize clinical outcomes.
References:
United States Census Bureau. Older People Projected to Outnumber Children for First Time in U.S. History. Press Release CB18-41. March 13, 2018. https://www.census.gov/newsroom/press-releases/2018/cb18-41-population-projections.html. Accessed on November 9, 2018.
American Board of Wound Management. CWS: Why Certify? http://www.abwmcertified.org/abwm-certified/cws/cws-why-certify/. Accessed on November 9, 2018.
Boyle, D.K., Bergquist-Beringer, S., and Cramer, E. Relationship of wound, ostomy, and continence certified nurses and healthcare-acquired conditions in acute care hospitals. J Wound Ostomy Continence Nurs. 2017; 44: 283–292
Wound Ostomy and Continence Nurses Society. https://www.wocncb.org/about-us. Accessed on November 9, 2018.