Patient mobility, a critical factor in improving patient health, needs to be a high focus even during this unprecedented pandemic. Increasing mobility is important for hospitalized patients to help improve oxygenation, prevent hospital acquired conditions and speed rehabilitation.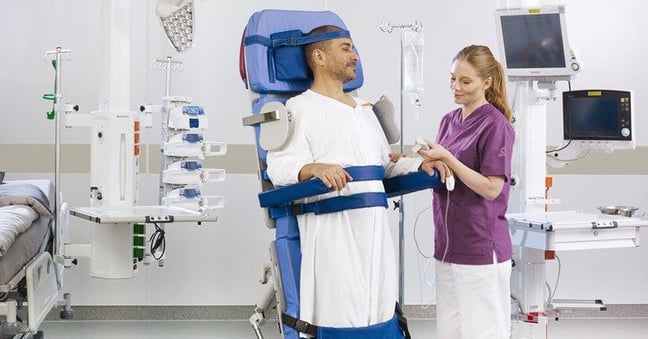 During these stressful times, healthcare providers are focused on the most critical of tasks when caring for patients while hoping for the best outcomes. Staff may be tempted to put mobility on the back burner. Please don't! Patient mobility remains a critical task as the hazards or consequences of immobility may, at times, be worse than the disease process in some cases.
Most critically ill patients admitted to the intensive care unit and fortunate enough to survive the disease process, often experience continued physical disabilities one year after hospital discharge. Approximately half of the patients are unable to return to work because of persistent fatigue, weakness and impaired functional status.1 Mobility will always be a critical factor in improving patient well-being and reducing overall length of stay.
Time, stressful work load and sustaining an injury are frequent perceptions caregivers have that are existing barriers to mobilizing critically ill patients early.2 Even more now, mobility needs to be a high focus during this stressful time. Utilizing tools for in-bed mobility to boost, turn, and reposition patients, and out-of-bed mobility tools to accomplish standing, transfers and ambulation, will assist caregivers to safely focus and accomplish mobility tasks with their critically ill patients. Mobility is crucial to the overall health and outcomes of patients.
References:
Hoyer, E. H., Brotman, D. J., Chan, K. S., & Needham, D. M. (2015). Barriers to early mobility of hospitalized general medicine patients: survey development and results. American journal of physical medicine & rehabilitation, 94(4), 304–312.
Jolley, S. E., Regan-Baggs, J., Dickson, R. P., & Hough, C. L. (2014). Medical intensive care unit clinician attitudes and perceived barriers towards early mobilization of critically ill patients: a cross-sectional survey study. BMC anesthesiology, 14, 84.