St. Ann's Home of Grand Rapids, Michigan is preparing for their residents' needs during the coronavirus pandemic. They have instituted health checks, greeters, family support and an isolation COVID Care Unit.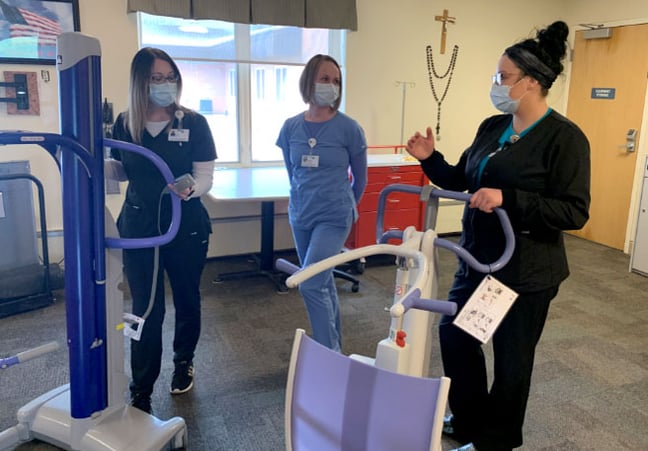 The new unit is a symbolic and real demonstration of the Sisters' mission to provide care for 65+ residents of Grand Rapids and West Michigan.
When the COVID-19 Pandemic broke out and swept across the US, St. Ann's Home in Grand Rapids, MI began to prepare immediately.
Dana M. Prince, Executive Director: "The continually unfolding and evolving pandemic has led to several operational impacts. First, we added required, daily, health checks of all staff and all residents the second week in March. That ongoing effort provides our infection prevention staff with an ever-growing database that provides trends and analysis. Second, we discontinued all visitors and non-essential visits into the building. We added Greeters in the Main Lobby, who verify staff daily self-health checks and gather gifts and essential deliveries from family members to residents. Third, we continue to evaluate and re-evaluate all our supplies, from food to personal protective equipment. Finally, we agreed in late March to work toward establishment and opening of an isolated COVID Care Unit, which is in an isolated wing in the facility."
How would you describe your relationship with Arjo as it relates to the COVID-19 pandemic and your preparation for the COVID Care Unit?
Jena Mis, RN: "Having a close working relationship with Arjo and a regional healthcare system located in Grand Rapids has given us a significant safety net. Arjo helped us assure the leadership team and staff who will likely work in the COVID Care Unit that we will have the necessary equipment to provide high quality care without struggling to search and find that equipment. We appreciate Arjo's partnership and understanding that specific pieces of equipment fit a unique niche – that is short-term and specialized use."
Will you describe your facility and its mission?
Tim Bulson, MS, Community Relations Director: "St. Ann's is owned and operated by the Carmelite Sisters, DCJ, which is a religious order that operates several facilities that provide nursing care, assisted living, and housing for youths. The creation of the COVID Care Unit is simply a symbolic and real demonstration of the Sisters' mission to provide care for 65+ residents of Grand Rapids and West Michigan."
Thank you to facilities like St. Ann's Home who are going above and beyond to ensure the health and safety of their residents.