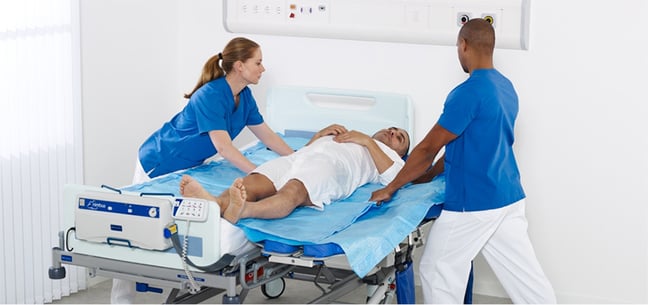 "It takes too much time!"
Caregivers will often express this frustration when presented with solutions to change the culture of patient mobility.
Mobility tasks, such as these, can cause injuries to caregivers:
Boosting
Turning
Repositioning
Lateral transfers
Create awareness of the risk for injury
Staff that are likely to use a mobile floor lift may benefit from placing friction-reducing devices under a patient to significantly decrease the workload for the caregiver.
A common method of repositioning a patient in bed begins with two caregivers, one on each side of the patient. On the count of three, both caregivers lift the sheet under the patient and place the patient into the desired position. The amount of weight being moved places the caregiver at a high risk for musculoskeletal injury. It is recommended by The National Institute for Occupational Safety and Health (NIOSH) not to lift more than 35lbs at a time.1
Today, patients are becoming larger and older. This may cause even greater amounts of force to be placed on the caregiver body secondary to an increase in mass and decline in physical and cognitive ability.2
The American Nurses Association (ANA) has advocated for the elimination of manual patient handling."3 Friction-reducing devices are one of the solutions designed to guard against the high rates of injury among caregivers during in-bed mobility.
Discover products designed to reduce strain
Friction-reducing devices are an effective way to move patients with less effort. Arjo's complete range of low friction sliding aids, such as the Arjo MaxiSlide Flites, are made of a high strength, low friction material. When the caregiver moves the patient, it requires much less effort because the material slides easily. Explore how Arjo solutions can provide a safer environment for healthcare providers.
Educate about improved methods of mobility
Arjo offers educational programs that can help to change the mindset of caregivers when moving patients. Caregivers can learn why it is important to use a friction-reducing device instead of grabbing the sheets to boost a patient. Changing the culture of in-bed mobility can be worth the time and safety of all – from caregivers to patients.
Join us for our complimentary educational webinar "Safe Patient Handling and Pressure Injury Prevention" on September 4, 2019 in which the impact that friction and shear have on the skin, as well as safe patient handling devices to safely mobilize the patient, will be discussed.
References:
Waters, T., Collins, J., Galinsky, T., & Caruso, C. (2006). NIOSH research efforts to prevent musculoskeletal disorders in the healthcare industry. Orthopaedic Nursing, 25(6), 380-389.
Centers for Disease Control and Prevention [CDC]. (2013). Adult obesity facts. Retrieved from http://www.cdc.gov/obesity/data/adult.html.
American Nurses Association position statement on elimination of manual patient handling to prevent work related musculoskeletal disorders. The Prairie rose 2004;73:18–9.