Of the 170,000 cases of acute respiratory distress syndrome (ARDS) each year in the U.S., 78% of patients with ARDS develop it within 48 hours of hospital admission.1 While ARDS patient mortality rates have declined, nearly half of all severe ARDS patients will not survive.1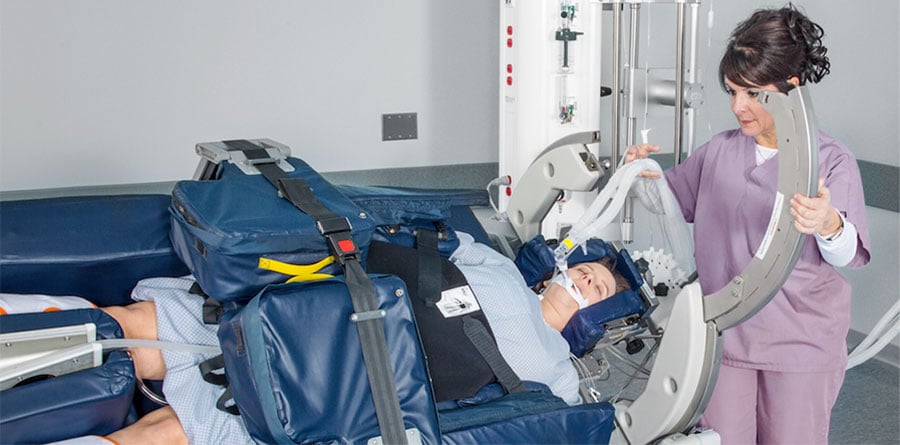 New ARDS treatment modalities continue to emerge, with multiple standards of care for the syndrome. However, the high incidence of misdiagnosis or missed diagnosis can make these care standards difficult to implement.
Prone positioning, now a standard of care for patients with severe ARDS, can help reduce lung trauma and improve patient outcomes.1 Manual proning poses particular challenges for clinicians. The Arjo RotoProne® Therapy System is a safe and effective way to provide automated proning and kinetic therapy.
A comprehensive system that helps simplify prone therapy, RotoProne reduces injury risk not only for patients, but also for clinicians. This webinar will focus on prone therapy strategies, with specific RotoProne solutions for skin care, invasive line management, and managing procedures and interventions.
Please join us for the Arjo Academy webinar, "Nursing Considerations for Prone Therapy," on Friday, May 31 at 1 p.m. CST.
This webinar is part of Arjo's regular series of educational sessions for professionals. Join us the first Wednesday and last Friday of every month, when we spotlight the hottest topics in Critical Care, Early Mobility, Dementia Care, Safe Patient Handling, Wound Care and more.
References:
Bellani G, Laffey JG, Pham T, et al. Epidemiology, patterns of care, and mortality for patients with acute respiratory distress syndrome in intensive care units in 50 countries. JAMA. 2017; 315(8):788-800.