Each year, more than 200,000 caregivers in U.S. hospitals experience musculoskeletal injuries, and a leading cause is poor workplace ergonomics.1 While hospitals and long-term care facilities have reduced their injury rates over time, caregivers still face significantly higher rates of injury than in private industry as a whole.2,3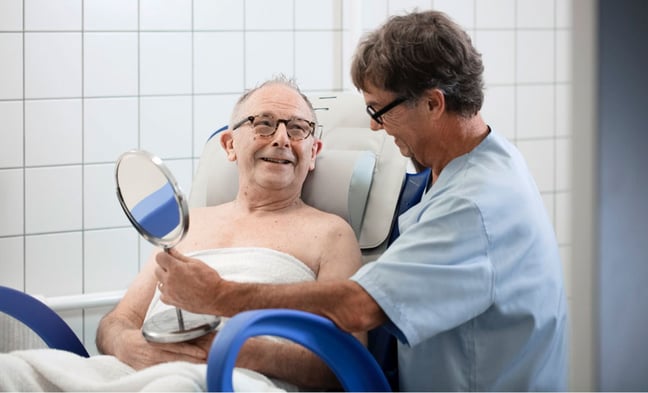 The danger of static load vs. dynamic load
It has often been assumed that dynamic load, such as manual resident transfers and repositioning, is the source of most of the caregiver injuries.4,5,6,7,8 However, studies have indicated that static load — unnatural postures held over prolonged periods of time — may cause even more long-term damage to caregiver health than dynamic loads.9
Hygiene care requires a great deal of static load on caregivers' bodies, as when they are showering or washing a resident/patient, they are often leaning in for a longer period of time without being able to support their own weight, since both hands are needed to carry out the hygiene procedure.
What can be done to help?
Using ergonomically supportive hygiene equipment, such as high-low showering chairs, has been proven to help reduce static load on the caregiver.7
Arjo recently received a national BPA from the Strategic Acquisition Center (SAC) non-expendables division for the Carendo®. The Carendo, a multipurpose hygiene chair, can improve quality of life by making assisted showering and other hygiene routines not only safer and more comfortable but also a more dignified experience.
Click on the button below to learn more about Arjo's comprehensive range of solutions and request a demonstration today!
References:
Collins JW, et al. An evaluation of a ''best practices'' musculoskeletal injury prevention program in nursing homes, Injury Prevention. 2004;10:206-211.
ISO/TR, Ergonomics — Manual handling of people in the healthcare sector: ISO/TR 12296. Gevena 2012.
Hignett SM, Fray M, Battevi N, et al. International consensus on manual handling of people in the healthcare sector: Technical Report ISO/TR 12296. International Journal of Industrial Ergonomics. 2014; 44(1): 191-195.
Jansen J, Morgenstern H, Burdorf A. Dose-response relations between occupational exposures to physical and psychosocial factors and the risk of low back pain. Occupational Environmental Medicine. 2004;61(12):972-979.
Freitag S, Fincke-Junod I, Seddouki R, et al. Frequent bending — an underestimated burden in nursing professions. Annals of Occupational Hygiene. 2012; 56(6):697-707.
Freitag S, Seddouki R, Dulon M, Kersten JF, Larsson TJ, Nienhaus A. The effect of working position on trunk posture and exertion for routine nursing tasks: an experimental study. Annals of Occupational Hygiene. 2014;58(3):317-325.
Knibbe JJ, Knibbe NE. Vijtde monitoring fysieke belasting in verpleeg — en verzorgingshuizen, thuiszorg en kraamzorg 2015 in opdracht van A+O WT (Fifth National Monitoring Physical Load in Nursing Homes, Home Care and Maternity Care 2015, Commissioned by A+O WT). The Hague, 2015.
Schall MC Jr, Fethke NB, Chen H. Working postures and physical activity among registered nurses. Applied Ergonomics. 2016;54:243-250.
Jansen, JP, The impact of physical load on the course of low back pain, PhD Thesis, Rotterdam, Erasmus University, 2004.