The seven key factors in planning and designing a person-centered health care facility are the focus of this blog series. This article offers insight into two more of those seven factors: minimizing physical overload and promoting efficient care.
These are the seven essentials in planning and designing person-centered health care facilities:
Number of caregivers
Design approach for long-term care and health care facilities
4. Minimizing physical overload
Caregiver injury risk increases when the facility design lacks sufficient space for proper equipment use and techniques. Dynamic overload and static overload are two primary hazards identified in ergonomic studies.
Minimizing both dynamic and static overload is key to reducing physical strain and caregiver injury.
Dynamic load is placed on the caregiver's body when pushing, pulling, and lifting. Static loads are experienced by caregivers when their posture is not ergonomic. Examples include bending over a patient to assist with feeding or washing them in bed.
To minimize static overload, caregivers must be able to work in an ergonomic posture and avoid forward-bending positions. Providing height-adjustable equipment such as beds, bathtubs and shower chairs achieves this goal.1,2
Dynamic overload is minimized by lifting and transferring patients with patient lifts instead of manually.3,4,5
5. Efficient care
Improving caregiver efficiency with the right equipment, ergonomic working techniques and a well-planned, carefully designed care environment addresses the growing need for more caregivers without compromising care quality.
Care procedures that require only one caregiver, instead of two or more, help residents maintain or improve their independence, and contribute to care efficiency.
Look for Arjo's next blog post in this series on health care facility planning, which will emphasize number of caregivers and the design approach.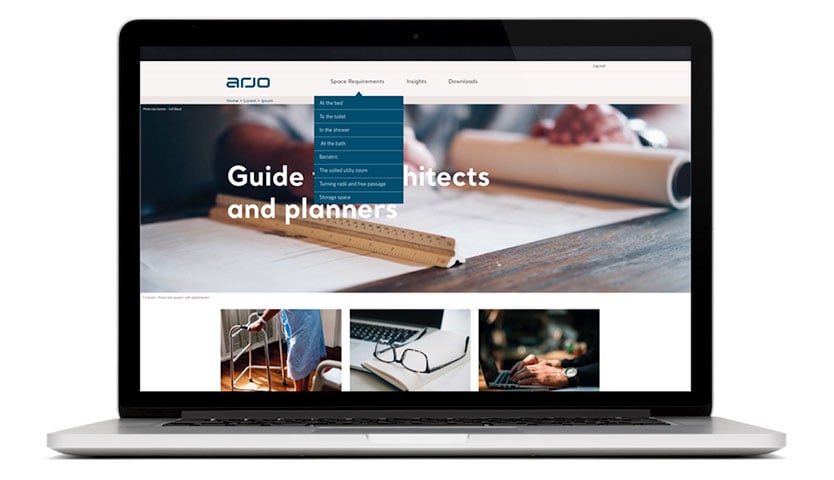 Arjo's architect portal includes a comprehensive selection of plan drawings that detail minimum required working space needed for caregivers to use mechanical aids. These drawings depict individual care situations, and can be selected and combined to match your facility floor plan. Complete drawings are also available for resident rooms, bathrooms and soiled utility rooms.
References:
ISO Standard 11226, 2000
Freitag, 2007
CEN/ISO TR 12296
Nelson et al, 2009
Waters, 2007