Health and social care environments that are not fit for purpose can increase the risk of musculoskeletal injury to the caregiver and the individual person.1 A multidisciplinary approach to risk management requires consideration of access, ingress and egress; circulation space; floor structure and loading.2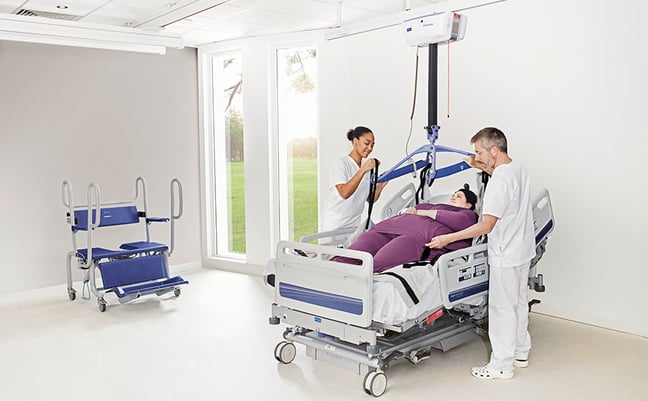 In the care setting, the space has to be large enough to accommodate the individual, the family, any equipment required and the associated caregivers who will undertake the handling activities.3 Functional space experiments undertaken by Loughborough University detailed the spatial requirements for the handling activities of a bariatric person on a general medical ward. The dimensions were defined as the "ergonomic envelope" and were the "incompressible space" required for defined activities rather than merely the room dimensions.3
The functional space experiments recommended that the minimum spatial requirement was increased from 16.61m² to 17.54m².3 In addition to the minimum spatial requirements, additional space for equipment storage, family and hygiene must be included in the ergonomic envelope.3
Specialty protocols and guidelines have been developed to accommodate the needs of bariatric patients.4 The challenges and safety concerns for the caregivers and patients are well understood, with obese or morbidly obese people often suffering from comorbidities. The patients need to be assured that they will receive safe, dignified and respectful care, while caregivers need to know that they will not be put at risk. Providing adequate space, designed to support procedures and bariatric equipment, is essential.
Furthermore, it is not only the patient who may be bariatric. The patient's relatives and caregivers may also be bariatric and require more space than usual. Even though the target populations vary slightly among organizations, the space requirements for any bariatric patient are relatively similar. In regard to architectural space and environmental planning, evidence-based principles and guidelines are readily available.3,5,6
Environmental planning
It is well recognized that immobile patients suffer a rapid reduction of muscle strength and skeletal structure. Mobilizing a patient at an early stage, or keeping the patient mobile as long as possible, has proved to have significant short- and long-term benefits,7,8 including reduced costs of treatment for the facility and greater physical and emotional well-being for the patients and staff. For caregivers, having the adequate space and proper aids yields more active and alert patients. This generates numerous benefits for the caregiver and enhances the quality of care for the patient. A more active patient requires less assistance, which greatly reduces the risk of the staff suffering musculoskeletal injuries.9
When the three key factors of environment, equipment and care skills are in place, you have created an environment where it is possible to mobilize the patient in an optimal manner.10 The principles of good care are the same in the management of a bariatric person as in any other area. Environmental needs are determined by the individual patient's mobility, the equipment required and the activities to be carried out in the space, which varies in different care settings. If space is sufficient and well planned, caregivers can always use the correct care skills and operate equipment safely and efficiently.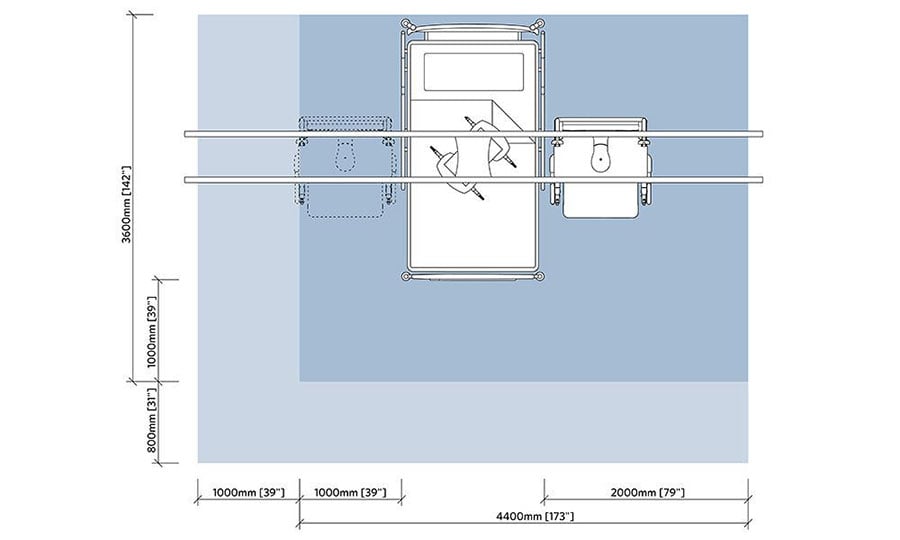 The Guidebook for Architects and Planners is now available as an online portal, based on content edited and reviewed by an international team of experts, including architects, ergonomists, nurses and representative users. By thoroughly researching and distilling best practice, this offers a succinct and visually rich summary of practical design measures to incorporate mobility needs into facility design, including a dedicated area for designing the care environment for a bariatric patient.
References:
Butcher K, Morgan J, Norton S. Inadequate provision of care for morbidly obese patients in UK hospitals. Ann R Coll Surg Engl (suppl.). November 2012;94:338-342.
White C, Waaiijer E, Sjogren H, et al. The bariatric resident: Arjo guide publication for architects and planners. 2005:99
Hignett S, Chipchase S, Tetley A, Griffiths P. Risk assessment and process planning for bariatric person handling pathways. Health and Safety Executive Research Report RR573. 2007.
Muir M, Archer-Heese G. Safe patient handling of the bariatric patient: sharing of experiences and practical tips when using bariatric algorithms. Bariat Nurs Surg Pat. 2008;3(2).
Cohen MH, Nelson GG, Green DA, et al. Patient handling and movement assessments: A white paper. Health Guidelines Revision Committee Specialty Subcommittee on Patient Movement FGI. 2010.
Muir MA, Rush JA. Moving and Handling of Plus Size People: An Illustrated Guide. Towcester, UK: National Back Exchange; 2013: 9.
Covinsky KE, Pierluissi E, Johnston C. Hospitalization-associated disability: "She was probably able to ambulate, but I'm not sure." JAMA. 2011;306(16).
Ohtake OJ, Strasser DC, Needham DM. Translating research into clinical practice: The role of quality improvement in providing rehabilitation for people with critical illness. Phys Ther. 2013;93.
Arjo. The Guidebook for Architects and Planners: Functional Design for Mobilisation and Ergonomics. 4th ed. Malmo, Sweden; 2014.
Arjo. Positive Eight. https://www.arjo.com/int/insights/acute-care/positive-eight/. Accessed January 2019.