There is much talk in the ICU healthcare arena about "Early Mobilization of the ICU patient". So why doesn't it occur more? Mobilizing ICU patients is complex! In many ICUs, the prevailing treatment of patients with an endo-tracheal tube (ETT), includes both bedrest and sedation, with no physician orders for out of bed activities, and inconsistent use of the standardized tools available to assess and treat pain agitation and delirium.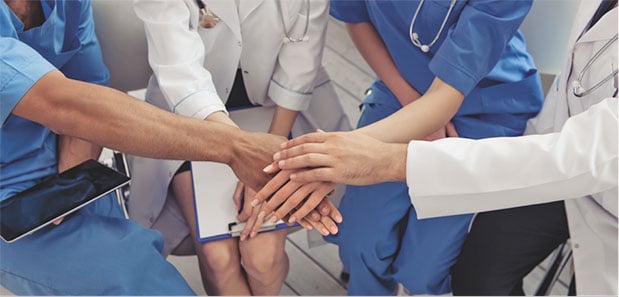 Other barriers include staff concerns regarding safety for themselves and their patients, as well as a general lack of resources and expectations – unit culture, equipment and training on how to accomplish more complex mobilization with ICU patients, and assessment tools.1 Rehabilitation therapy staff may not be part of the ICU team assisting in and promoting this as well.
As with any other change in work processes and culture – there needs to be a plan!
A champion for ICU mobility has been shown to be crucial, along with an interdisciplinary team working to problem solve the particular unit's needs.1 Team members should include unit nurses/leaders, rehabilitation therapy, physician/intensivist, respiratory therapy and pharmacy.
This team can review evidence-based tools, such as PAD guidelines, which will assist in management of patient over-sedation while maintaining patient comfort, and the A-F bundle, which assists in putting the whole picture together.
Daily interdisciplinary rounding with daily patient goal setting (short term and long term), keeps the team progressing the patient toward agreed upon objectives.
Provision of appropriate assistive devices and friction reducers to support mobilization safety needs to be included in the plan, as well as ongoing staff training and support. Outcomes should be tracked from a baseline number, as part of process improvement.
Certainly, there is more research needed regarding patient outcomes in the post-ICU and post-acute arena, as well as expert consensus on such matters as safe levels of vasoactive support during mobilization. There is, however, a solid body of research supporting moving forward with ICU patient mobilization after careful assessments, utilizing standardized tools, and as part of a patient centered plan.1
Click here if you are interested in the 5 Essential Questions that should be asked before implementing Early Mobility in your ICU.
References:
Hodgson, C., Capell E., Tipping J; Early Mobilization of Patients in Intensive Care: Organization, Communication and Safety Factors that Influence Translation into Practice; Critical Care March 2018 22:77 https://doi.org/10.1186/s13054-018-1998-9