Whether climbing mountains to just getting up out of our chairs to walk to the bathroom, movement is key to our independence and quality of life. When we are not able to safely move independently, we become dependent on someone else to help us with activities of daily living.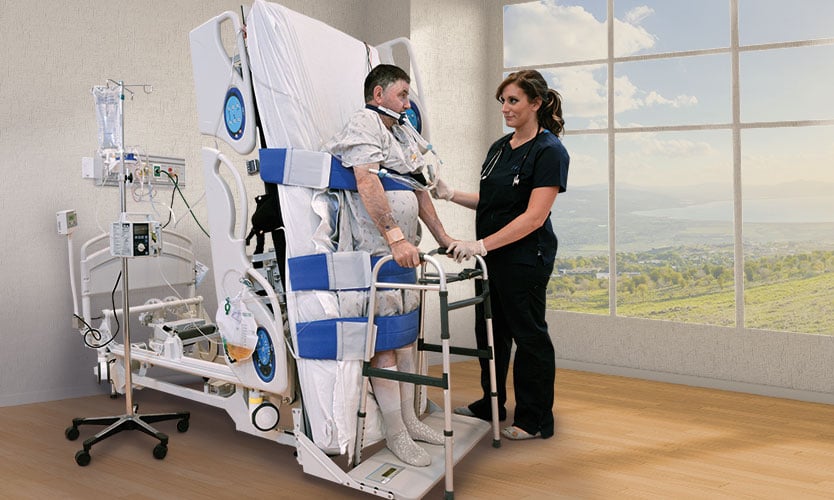 Regular movement helps keep our muscles and joints working normally, promotes normal function of our vestibular (balance) center, heart, lungs, metabolism and hormone levels, and helps with regularity of bowel movements.1
Hospitalization can threaten our ability to keep moving. Research shows that patients spend more than 80% of their day in bed.2 Staying in bed causes changes within one-two days. Muscles get 3% weaker per day, hormone levels are affected, intestines move more slowly and blood levels of fats and sugar increase.3 After just one day of hospitalization, more than 40% of patients over the age of 65 become incontinent,4 and staying in bed for more than four days can result in significant weakness, loss of balance and dizziness when getting up (Orthostatic Hypotension).
Barriers to getting up and moving in the hospital include:
Fear of falling. Many interventions to prevent falls have increased the likelihood of patients staying in bed. Ironically, each day spent in bed actually increases the risk of falling, because muscles get weaker, reaction time is slowed and mental judgement is affected
Patients are often hooked up to lines or IVs when in the hospital. These can be a barrier to getting up. It is important to help patients move around, even with these lines
Belief that rest is best. Research has shown that getting up frequently throughout the day is extremely important for healing and to preserve mobility and the ability to care for oneself
Injuries to nurses when lifting patients has increased the number of facilities moving to "no-lift" environments. Facilities must use lift equipment to help get patients up and to save caregivers' backs
Early Mobility programs reduce falls by 59.8% (average from 5 studies 8-12)
By using safe lifting equipment for mobility, neither patient safety nor caregiver safety need to be compromised. In fact, moving is the best way to help patients stay independent until they are ready to go home; it increases the chances they will go home rather than to a skilled nursing or rehabilitation facility, and will remain well at home, rather than need to be readmitted. A culture shift toward prioritizing mobility is needed.
There are many products and devices that can support a shift in culture toward keeping patients on their feet and moving around safely.
Even before a patient is able to get out of bed on their own, Arjo's Total Lift Bed can help with sitting, standing, exercising in bed and marching, many times per day without risk to patient or caregiver. The bed helps patients to stand up when they are at their weakest, as the body is recovering from an injury or illness, and helps improve strength and endurance, to get OUT of bed more quickly. This helps nurses and therapists do more activities without having to physically lift the patient and risk injury to themselves.
Early Mobility programs reduce hospital length of stay by 23% (average from three studies5,6,7)
Bottom line … mobility is important "medicine." Shifting the culture toward activity and mobility in the hospital is key to improving patient outcomes and keeping all patients—especially the elderly, who are most at risk of decline in health after hospitalization—in good health. Fears of patient and caregiver safety can be overcome by using mobility equipment and devices. We need to replace "rest is best" with "mobility is key."
References:
ernikos J. Designed to Move. Fresno, California: Quill Driver Books; 2016.
Brown CJ, Redden DT, Flood KL and Allman RM. The underrecognized epidemic of low mobility during hospitalization of older adults. Journal of the American Geriatrics Society. 2009; 57: 1660-1665. doi:10.1111/j.1532-5415.2009.02393.x.
Dean E. Bedrest and deconditioning. Neurol Rep. 1993; 17(1): 6-9.
Bakerjian D. Betty Irene Moore School of Nursing, UC Davis. Hospital Care and the Elderly. Accessed June 27, 2019 from https://www.merckmanuals.com/professional/geriatrics/provision-of-care-to-the-elderly/hospital-care-and-the-elderly.
Azuh O, Gammon H et al. Benefits of early active mobility in the medical intensive care unit. A pilot study. American Journal of Medicine, August 2016; 129 (8):866–871.e1.
Needham DM, Korupulou R. Rehabilitation quality improvement in an intensive care unit setting: Implementation of a quality improvement model. Top Stroke Rehabil. 2010; 17(4): 271-281.
Morris P, Goad A, Thompson C, Tayler K, Harry B et al. Early intensive care unit mobility therapy in the treatment of acute respiratory failure. Crit Care Medicine. 2008; 36(8): 2238-2243.
Fraser D, Spiva L, Forman W, & Hallen C. Original research: implementation of an early mobility program in an ICU. AJN 2015.
Inouye SK, Bogardus ST Jr., Charpentier PA, Leo-Summers L, Acampora D, Holford TR, Cooney LM. A multicomponent intervention to prevent delirium in hospitalized older persons. N. Eng. J. Med. 1999, 340: 669–676. [CrossRef] [PubMed]
Wood W1, Tschannen D, Trotsky A, Grunawalt J, Adams D, Chang R, Kendziora S, Diccion-MacDonald S. A mobility program for an inpatient acute care medical unit. Am J Nurs. Oct. 2014; 114(10): 34-40; quiz 41-2. doi: 10.1097/01.NAJ.0000454850.14395.eb.
Hempel S, Newberry S, Want Z, Shekelle PG, Shanman R et al. Review of the evidence on falls prevention in hospitals. Task 4: Final Report. Working Paper prepared for AHRQ, February 2012. Accessed at http://www.rand.org/pubs/working_papers/WR907.html , September 27,2016.
Growdon ME, Shorr RI, Inouye SK. The tension between promoting mobility and preventing falls in the hospital. JAMA Intern Med. June 2017. 177(6): 759-760. doi:10.1001/jamainternmed.2017.0840.