March is Deep Vein Thrombosis (DVT) Awareness Month, which serves as an important launching point for many to reassess their approach to and understanding of DVT. Given the significant impact of this condition, raising general awareness and understanding is critical to the development of better strategies for preventive care. At Arjo, we are committed to supporting this effort through the ongoing development of educational materials and solutions that positively impact the lives of patients and caregivers.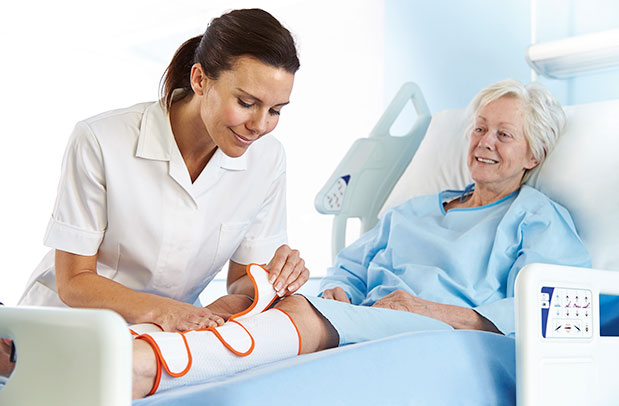 This public health initiative was started over a decade ago by the Society of Hospital Medicine with the goal of educating and raising awareness among patients, healthcare professionals, and public health leaders. Though highly preventable, this condition continues to maintain an extensive reach, adversely impacting hundreds of thousands of patients each year. DVT and pulmonary embolism, collectively known as venous thromboembolism (VTE), is often considered a "silent killer." Making matters worse is the fact that a lack of awareness in the general population means that symptoms may often be ignored or misdiagnosed, leading to delays in diagnosis and effective treatment1.
Raising awareness of DVT is the first step in promoting an effective approach to risk factor identification for this all-too-common condition. Through heightened awareness, education, assessment of blood clot risk, and the implementation of effective preventive strategies for those at risk, health providers are better equipped to address the challenges of DVT.
We encourage all healthcare providers to regularly monitor, re-evaluate, and enhance their DVT prevention practices and strategies. Doing so helps us all to stay ahead of these commonly preventable conditions and promotes a safer approach for each patient.
References:
Cushman, M., Creager, M.A. Improving Awareness and Outcomes Related to Venous Thromboembolism. JAMA. 2015; 314(18): 1913–1914.