Join us for our complimentary educational webinar with renowned expert and guest speaker, Dr. Joseph Caprini, MD, MS, FACS, RVT, DFSVS, to discuss "COVID-19: The Tangled Hemostatic Web Revisited" on Monday, June 1st at 10:00am CDT.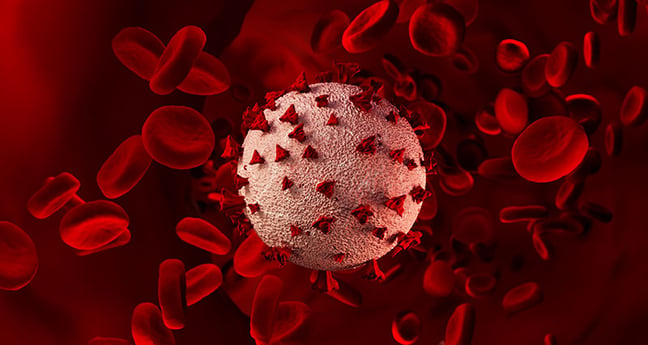 Every day, we learn more about the challenging viral illness, COVID-19. As more research becomes available, we gain greater insight into this complex disease with each passing day. Even as clinicians, we strive to make sense of it all as it ravages our healthcare system and continues to take a heartbreaking, catastrophic toll on patient lives of all ages.
As new research emerges, it is now apparent that some COVID-19 patients have a predisposition to significant thrombotic complications, including venous thromboembolism (VTE), encompassing both deep vein thrombosis (DVT) and pulmonary embolism (PE), strokes and heart attacks, among others. These complications appear to be a result of severe inflammation, pronounced systemic intravascular coagulation, hypoxia and immobilization, according to published literature.1
VTE is seen in approximately one-third of those patients with COVID-19 even when prophylactic anticoagulation is used.2 As we continue to learn more about this critical disease, current prophylaxis recommendations to mitigate VTE risk in COVID patients include:
VTE risk assessment and stratification for hospitalized patients (ie.,Caprini, IMPROVE and Padua models) 3,4
Use pharmacological prophylaxis in all COVID patients

If pharmacological prophylaxis is contraindicated, mechanical prophylaxis (intermittent pneumatic compression devices) should be considered in immobilized patients3
If platelet count is <30k, significant bleeding or other absolute contraindication to anticoagulation are present, use mechanical compression devices4
All completely immobilized patients would benefit from intermittent pneumatic compression in addition to pharmacological thromboprophylaxis5
VTE prophylaxis is critical in the care of these patients at risk. For your COVID patients that may require mechanical prophylaxis during their care, Arjo is here to provide solutions to support your preventive efforts with our Flowtron intermittent pneumatic compression devices, when needed. In this ever-changing clinical arena and as every day passes, we are always here to help you take care of your patients when you need us...we are all in this together!
References: