Bed sore, decubitus ulcer, pressure sore, and most recently, pressure injury. These are all common terms that refer to tissue damage that results from pressure.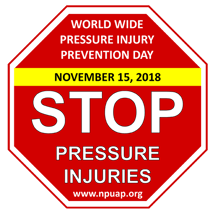 Pressure injuries are a painful condition for the patient, as well as costly for both the patient and health care facility. In addition to pain, patients who develop pressure injuries may experience anxiety, infection, a prolonged stay in the hospital and/or rehabilitation, surgery, amputation and sometimes even death. Health care facilities also face increased costs related to pressure injuries for nursing care, rental of specialty beds or mattresses, nutritional supplements, dressing supplies, surgery, debridement and flaps, as well as a potential impact on the facility's reputation. Moreover, in 2008, the Centers for Medicare and Medicaid Services (CMS) announced that it would not pay for additional costs incurred for hospital-acquired pressure ulcers.1
The National Pressure Ulcer Advisory Panel (NPUAP), a non-profit group of health care professionals who serve as an authoritative voice for improving patient outcomes through public policy, education and research, defines a pressure injury as localized damage to the skin and underlying soft tissue, usually over a bony prominence or related to a medical or other device. The injury occurs as a result of intense and/or prolonged pressure, or pressure in combination with shear. The tolerance of soft tissue for pressure and shear may also be affected by other factors, such as microclimate, nutrition, perfusion, co-morbidities and the condition of the soft tissue.2
Facts related to pressure injuries:
Number of people affected: 2.5 million patients per year.
Cost: Pressure injuries cost $9.1–$11.6 billion per year in the U.S. Cost of individual patient care ranges from $20,900 to $151,700 per pressure injury. Medicare estimated that each pressure injury added $43,180 in costs to a hospital stay (2007).
Lawsuits: More than 17,000 lawsuits are related to pressure injuries annually and constitute the second most common claim after wrongful death and exceed falls or emotional distress.
Pain: Pressure injuries may be associated with severe pain.
Death: Approximately 60,000 patients die as a direct result of a pressure injury each year.3
In 2013, NPUAP initiated the first World Wide Pressure Injury Prevention Day with the goal of increasing national awareness to pressure injury prevention and to educate the public on the topic of pressure injuries. This year, World Wide Pressure Injury Prevention Day will be celebrated on Thursday, November 15th.
NPUAP is working through Congress to seek a Federal Declaration from the President for a Pressure Injury Prevention Awareness Day to occur each year on the third Thursday of November. Health care professionals are urged to contact their state legislators requesting support for World Wide Pressure Injury Prevention Day.
At Arjo, we are focused on solutions that support the prevention of pressure injuries. Our Pressure Injury Prevention (PIP) portfolio includes highly specialized therapeutic beds, mattress replacement systems and a continuum of other support surfaces designed to help prevent and treat pressure injuries.
Contact your Arjo representative to discuss how Arjo can partner with your facility and assist in improving patient outcomes.
References:
Evidence-Based Prevention of Pressure Ulcers in the Intensive Care Unit." K. Cooper. CriticalCareNurse, December 2013, p. 33.
National Pressure Ulcer Advisory Panel (NPUAP). NPUAP Pressure Injury Stages, NPUAP 2016 Staging Consensus Conference, April 8–9, 2016, Chicago, Illinois. http://www.npuap.org/resources/educational-and-clinical-resources/npuap-pressure-injury-stages/
Statistical Brief #64: "Hospitalizations Related to Pressure Ulcers Among Adults 18 Years and Older, 2006." This resource can be accessed through the Healthcare Cost and Utilization Project: http://www.hcup-us.ahrq.gov/reports/statbriefs/sb64.jsp.