"Standing from a seated position is one of the most frequently performed functional tasks. It is especially essential as the prerequisite for walking and independent living."1 For the health care provider and patient recovering from a stroke this can be especially challenging.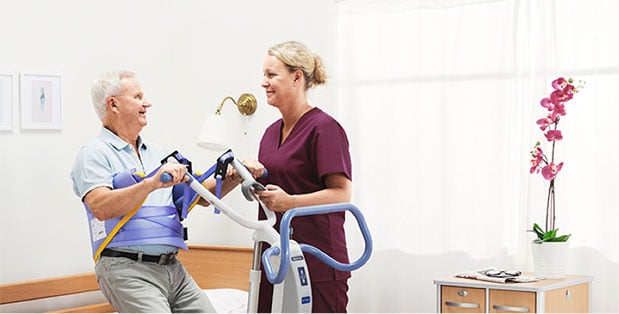 "People who have had a stroke also commonly exhibit a reduced peak vertical reaction force, an increased time to complete the movement of rising to stand and a larger medio-lateral centre of pressure displacement compared with healthy adults."2 Assisting dependent patients to stand and transfer is a demanding task. In fact, according to the United States Bureau of Labor Statistics, year after year health care providers are the highest ranked group for on the job musculoskeletal injuries.3
William Maras, Director of the Spine Research at Ohio State University shared with NPR radio "Manual patient handling is unsafe and is directly responsible for musculoskeletal disorders." "Not surprisingly, technology exists to take the burden off nurses' backs."4 The new Arjo Sara Flex is the perfect solution for keeping patients mobile in a way that is safe and comfortable for patients, and safe for caregivers.
References:
Pollock A, Gray C, Culham E, Durward BR, Langhorne P. Interventions for improving sit-to-stand ability following stroke. Cochrane Database of Systematic Reviews 2014, Issue 5. Art. No.: CD007232. DOI: 10.1002/14651858.CD007232.pub4.
Cheng PT, Wu SH, Liaw MY, Wong AMK, Tang FT. Symmetrical body-weight distribution training in stroke patients and its effect on fall prevention. Archives of Physical Medicine and Rehabilitation 2001;82:1650-4.
U.S. Bureau Of Labor Statistics, Survey of Occupational Injuries and Illnesses, in cooperation with participating state agencies, https://www.bls.gov/news.release/pdf/osh2.pdf